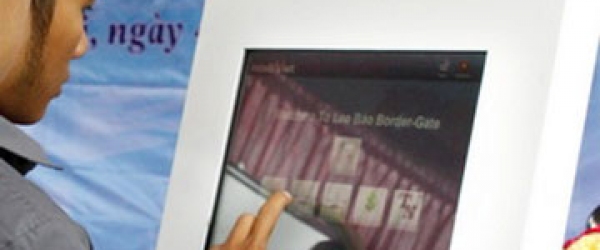 Information from Vietnam to foreign countries is limited
Update: 17h48 - 07/09/2012
On 7/9, in Hanoi, the Steering Committee for the work of external information (the Party Central Committee) held a preliminary review on the external information six months of the year, determine the direction and tasks 6Last month in 2012.
Dinh The Huynh, Politburo member, Secretary of the Party Central Committee and Chairman of the Central Propaganda Department, Head of the Steering Committee for the External Information presided over the meeting.
Report by Mr. Pham Van Linh, deputy head of the Central Propaganda, Deputy Head of the Permanent Steering Committee for the external information presented at the conference stated the first months of this year, the situation of the world, the region and in the country continues to have complicated, directly affect the activity of external information.
However, external information activities in the country continue to be enhanced, synchronous deployment, and achieve a number of results on all sides to promote the image of Vietnam to the world, fight public opinion on important areas, political diplomacy, the field of human rights and democracy, the propaganda border, territory, island ...
Participants at the conference agreed to determine what problems exist in the external information such as information from Vietnam to foreign countries is limited, internal and external information is not cohesive, coordinated rhythm, especially in sensitive areas such as religion, human rights, borders, territory ..
In contrast, information from the world in Vietnam lacks selectivity, sometimes not the right direction; role of the overseas Vietnamese community, the international media have positive thoughts untapped effective.
Besides, the implementation of the conclusions of the Politburo on "Development Strategy 2011-2020 external information has been slow. The sub-committee of the Steering Committee for external information not yet in operation; external information expert group promotion has not been established.
Speaking at the conference, Mr. Dinh The Huynh stresses, the remaining months of this year, the Steering Committee for the external information should continue to perform well 5 duties; subcommittees under the Steering Committee should soon complete the construction operation regulations, planning activities in 2013; coordinate the deployment of content and tasks in the development of external information strategy 2011-2020.
Steering the external information needed to focus on building specific regulations on coordination between agencies, units engaged in external information and complete the survey on the work of internal and external information abroad according to the approved plan.
In addition, the external information should focus on improving the quality of advising, forecasting, enhance improve the information operations from Vietnam to foreign countries on the basis of sticking to the policy, line and external communication tasks of the Party and State; further closely linked external information with internal information, in order to strengthen the social consensus and further enlist the sympathy and support of the international community and foreign expatriates for the construction and protection of the country.
In addition, the fight public opinion on the matter by public opinion and foreign special attention should be focused.