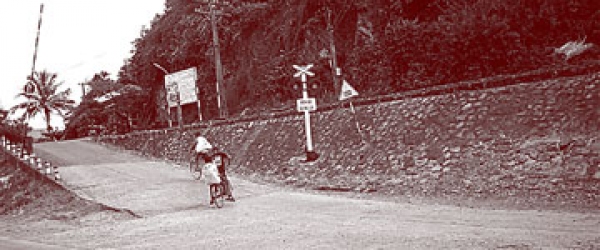 Chaotic battle in history
Update: 18h12 - 07/09/2012
Hon Don (An Dinh Commune, Tuy An) located near Tuy Hoa 40km north. Nearly 50 years ago where it took place a very fierce battle, unequal between us and the enemy. As the battle has left deep memories during his military career veterans emotional battles and deep; mental coordination courageous battle of 40 people and guerrilla An Dinh in the years against the United States ...
10/1966, six sapper soldiers of the 202 st was ordered to fight the University team republics of the U.S. 3rd Battalion E47 plays in mountainous Son Cha (An Ninh - Still An) but unfortunately exposed, units military zone 6 (region free). We Americans dispatched a team of more than 100 names to intercept the army. That night, we stationed in chaos, a mountain located Highway 1 approximately 7km. At first noticed the hardened enemy is equipped with more modern weapons, our troops have not rated. But then Comrade Deng, Social captain of An Dinh was concentrated 60 grenades, an additional 20 people and 20 guerrillas coordinate to beat. Moreover, after the reconnaissance and monitoring, found that the enemy is very sketchy and as a watch in the preparation because they are subjective. This makes the commander determined to destroy them. 6 comrades engaged in this battle including Tran Residential, Huynh Van Ung, Huynh Van Luong, Nguyen Administration, Mr. Sahn (can not remember them - PV) and Nguyen Sanh both officials squad, platoon experienced many battle so very have economic nghiem.Vi so make plans soon was Mr. Nguyen Hung, Dalian captain 202 teams agree. With the motto: Secrets, surprises, bold comrades were divided into two groups waiting for the darkness towards the enemy camp. To the north led by Huynh Van Ung; the south led by Mr. Nguyen Administration. In one night, our troops won completely. A U.S. college team on 100 wiped name, we collected many trophies and guns, including two gun, two medium.
But do remember veterans and the most emotional feelings of the mother, the sister of civil, guerrilla and revolutionary facilities management was not difficult hardships and sacrificed their lives to the mind synergy, encouragement to fight and win. It happened almost half a century but according to veteran Huynh Van Ung, like yesterday. It's the mother in the sixth, when she heard of his team was concerned to fulfill housing. Mother in the home only two hens but did meat porridge for "his little desperate after fight eating warm stomach". And he said: Thanks emotionally close as siblings of the sister, the mother encouraged the spirit to hit and hit win ". He pity boots "People do not know who on the team, assess and incorporate guerrilla battle chaotic years old now anyone who loses?".
Battle won almost absolute chaos. It is the result of the army like a fish to water, an ingenious combination of local forces and military forces make up a power inexorably. It also as a traditional petal pink paint for fighting and winning America's armed forces and people of Phu Yen.