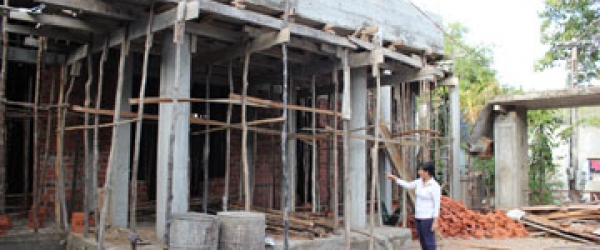 Program of popular
Update: 18h02 - 07/09/2012
Under the plan, the project building flood shelters pilot in the Tuy An and Dong Xuan district will be implemented from May 10 this year. By this time, 100 poor households in two communes of Xuan Son Nam (Dong Xuan) and An Dinh (Yet An) are urgently prepare funds for the planned construction of flood shelters.
PEOPLE HELPING AN IMMIGRATION
The village Dinh Trung 1, Dinh Trung 2, Long Hoa commune of An Dinh (Yet An) and Tan Long, Tan Hoa commune Xuan Son Nam (Dong Xuan) have in common is located along the Cai River, low-lying, travel difficult. Each when flood water rapids, rescue boats very difficult to reach this area, so people mostly local rescue. Ms. Nguyen Thi Buddha (81) in the village of Dinh Trung 2, recalls: Living to each age, I have never seen any major flood in 2009. That year, an unprecedented water fast. In the afternoon, the water on the outside of the, to 8pm country in the yard, and so on up the wind like kites meet. Her little child I just keep climbing up the stairs sat huddled, pray to god for the water not up anymore. More than one night and one morning we had to take cold, hungry, heard the rescue boats run outside but called no one to hear. Furthermore, if you hear they did not get into this area because many bamboo.
She is Buddha is living with two married sons and a small child. Poor, as several acres of fields is not enough to eat, my wife and her son But be hired to get money for life. "This installment, the family I try to" run "the full 10 million to add to the support of the State building flood shelters. Hut, we feel more secure when the flood season, "said the Buddha shared.
Truong Thien in Long Hoa An village Dinh, said: If you want to play, in addition to support the State's capital, the family had to borrow more money. Known to be difficult but we have to try as this is necessary, especially when the flood season approached. "I do not want to witness the couple, the children sat on the roof watching the swirl, erosion to cleft palate yard before the house as in 2009," Shan said.
Mr. Doan Van Hai, a loan poor households build flood shelters says: I have lived in small villages and Tan Long should know the erratic weather of this area. A few years ago, the family plans to build to prevent flooding, but no conditions. State policies to support construction of flood shelters, we are very excited. Family will try to gather more money to build permanent huts to take shelter when the storms, floods.
Loan program for building flood shelters made comply with Decision 716/QD-TTg of the Prime Minister, for 700 poor households in 14 communes affected by floods in seven provinces: Thanh Hoa, Nghe An, Ha Tinh, Quang Binh, Quang Nam, Quang Ngai and Phu Yen. Level of support by the central budget of 10 million VND / household; Social Policy Bank loans up to 10 million VND / household. In addition, the household contribution and commitment to mobilize funds from the community for a minimum of 10 million VND / household.
NEED MORE SUPPORT
According to Phan Van Ba, Chairman of An Dinh, although people in the commune initiative in preparing the boat, but to "living with floods" but still can not predict all the erratic weather. Each household to borrow capital building flood shelters to sign a commitment to meet the minimum reciprocal. However, for the poor, run each meal was hard, "running" at least 10 million more in this time is a great effort. Prescribed minimum of 30 million / hut, if people who are building or repairing houses, more jobs flood shelters would be convenient; own even if only built hut, afraid that it is difficult to get a consistent try to avoid flooding in the long run. "To the people stabilize their lives, peace of mind every time the storm and flood, we are looking forward to the competent bodies to continue to support people with more capital building flood shelters sustainable, adapt local practical conditions, "Ba said.
Department of Construction has submitted 5 designs PPC hut prevent floods fit climate and geological features in the area located in the project area. The sample hut floor use higher flood levels from 1.5 to 3.6 m at the location of construction, minimum area of 10m ², reinforced concrete pillars and floor. When the flood, this is not only inhabited by people, but also can take property and lock both livestock and poultry.
Dao Tan Nguyen, Director of the Social Policy Bank branch in Phu Yen said: When selecting the design and implementation of the people, the bank will begin disbursement to the poor with the money materials for building shelters. Each household may borrow up to 10 million, the interest rate of 3% / year, 10-year loan term, including a grace period of 5 years. In addition, poor households can borrow some procedures other programs of the Social Policy Bank for more money to build more permanent shelters.