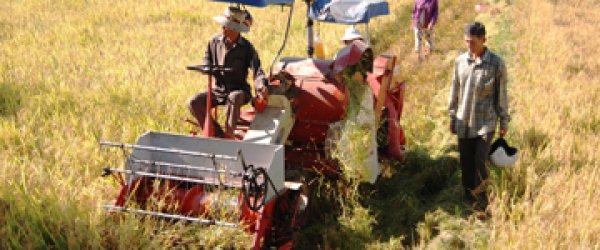 Diem Dien - the home revolution
Update: 18h15 - 07/09/2012
The center of An Ninh Tay (Yet An), Diem Dien village has mountains, rivers and fields. During the anti-France, the village has 500 households and nearly 1,200 people, mainly live on farming and animal husbandry.
This is the first provincial politics school standing leg, training many core staff officers of the province, the Central Government, as: Huynh Van Lan, Deputy Director of the Office of Government; Vo Van Kha, director of Phu Yen Department of Construction ...; destination of the South to the North officials get arms to fight the South in the years 1946 - 1947, including Nguyen Thi Dinh Pham Van Bach, Tran Dinh Tri create very diffuse and forged strong revolutionary spirit in the strata here. During the long history of anti-French and anti-American ethnicity, rural Diem Dien always a solid copper causing enemies to fear ...
At that time, the village Diem Dien powder neighbors, neighbors, neighbors Triêm, new neighbors, into pregnant and church villages (now church network Tomb of An Thach). Y the east and is equipped with modern weapons, the enemy has occupied the church network Lang and neighbors powder. At this church, including a puppet platoon occupied, we put a control surface for easy grip. Son Cha at the mountain, they put a watchtower to control the region. Only a small village Diem Dien, but always in a state of two frontline, vied every inch of land. During this time, Diem Dien Village is the "line of fire" of Social Security, so at that every day there are dozens of games against guerrilla raid of village. Each time raid, the enemy must use both artillery and air support, but we can not do anything about it. Name of Hamlet Hamlet powder then can not understand why every time they need to have to take the pummeling. In his memoir, veteran Tran Doan Phu remembers, bamboo banks, mounds in the trench system of 9-year war against France. He said thanks to trench a partisan of the village dared to resist both puppet system right the wrong hands, determined not to let us into the village. Especially in campaign Atlang, the enemy used artillery, aircraft and boats from the sea Tien Chau cannon in question but guerrilla villages and people Diem Dien still heroically hang on to fight to protect villages . Son Cha mountain, rural guerrilla crushes watchtower, down three rods of the risk and the revolutionary flag. In the revolutionary atmosphere is high, the village Party branch meeting resumed the name Hamlet neighborhood is called oligarchy powder has many blood debts to the revolution, to overcome the disaster. Diem Dien village Party branch has mobilized some insider internal enemy do to us. After many track and understand the hours of his life, the branch has sent a guerrilla squad entering this name. Earlier this month 5/1954 truly evil Ap Director of flour neighbors had been killed while he was resting after a raid in the neighborhood powder. Since then military camouflage system, puppet Government disintegrated, neighbors freed flour. Diem Dien Village is one of the first places seized power in Tuy An district, major contributions in the area of the province in campaign Atlang.
To obtain glorious victories, not to mention the great of her, the mother in the village was not afraid to sacrifice, hard to worry every meal, drinking water guerrilla guarding the area borders. There are many women as participants in partisan, night security guard, but the day still campaigned relative contribution of food, military food culture.
During the anti-American, Diem Dien Village is also the scene of fierce raid, but local people still unyielding fighting, keep key battle at the front end of An Ninh Tay. In massacre Bank of Son - Chi Thanh many rural children Diem Dien bravely sacrificed.
War has receded, villagers Diem Dien live in peace; life has been improved, and more buildings coming up in close. Diem Dien has always maintained the lead in many aspects of village An Ninh Tay ...