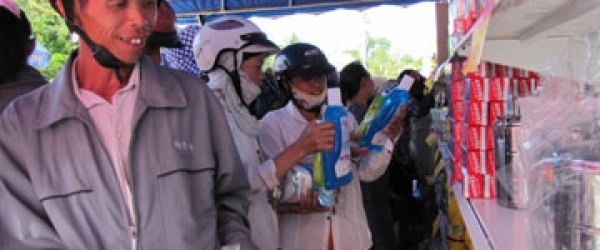 Stimulate market areas and remote areas
Update: 18h09 - 07/09/2012
National Day (2/9) this year, five businesses in the province held a program on Vietnamese goods in mountainous districts of Song Hinh, Son Hoa meet the consumer demand for people here.
Program by the Center for Industrial Promotion and Trade Promotion (Provincial Department of Trade and Industry) in collaboration with five businesses: Commercial Services Co. Saigon - Phu Yen, Van Phuc Trading Co., Ltd, May Clothing Royal Post, Food Technology Joint Stock Company in Phu Yen and Phu Yen shares mountainous Trade organization made from 29/8-1/9 served at Ea Ly (Fig. River) and Son Long (Son Hoa), every 2 days.
At Ea Ly (Fig. River) new 6am, when the pre-cleaning medium wholesale agricultural market Ea Ly had a lot of people focus. Shoppers who also enlisted call at the mobile sales for reference and purchase price. She Nay Y Lien, in the village of Tan An Ea Bar cheerfully boasted: "This morning the market saw sales team from Tuy Hoa, so I stopped by to visit. Tranches businesses have promotions so I bought a lot of goods, may be used to close the festival to finish. " Ms. Le Thi Rich, at the Tan Binh, Ea Ly said: In Ea Glass and other mountainous communes have more goods, but the price is quite expensive, it does not guarantee the quality of my monthly so often down two particular town or Tuy Hoa to buy. Hence, the waves bring Vietnamese goods on sale in the deep-lying and remote areas is essential and we have the opportunity to purchase discount, promotion, quality assured products.
Nguyen Van Chau, salesman Van Phuc Trading Co. confide: "For now, the waves take on remote, remote is a good opportunity for us to promote products, expand market school directly to find out the demand for goods of local people, thereby making the product suitable for distribution of goods. " But Bui Van Tri, Royal Garment Co., Ltd., are also very excited to apparel items sales are strong. He Tri said, only in the morning that the company has sold more than half of the amount of goods carried for sale in 2 days in the commune of Ea Ly, Song Hinh district, should have known about bringing more clients to enough for her children. "
Nguyen Phuc Thanh, Chairman Ea Ly, Song Hinh district said: Ea glass is located in the social centers in the west districts Song Hinh, not only for the people in the village, but also the western region district. Therefore, this is a very convenient location for business referral organization, consumption goods. Also create conditions for local businesses often put on serving people.
During bring Vietnamese goods to rural areas this time, the production enterprises, businesses will offer competitive prices compared with the same products in the area, together with promotions. The main item put on this service, including food technology, home appliances, garments, beverages are produced in the province and high-quality Vietnamese goods, promotions, discounts to 50% should have attracted a large number of people to purchase. Only 2 days for in Song Hinh business district now has a turnover of over 200 million.
According to Le Thanh Khanh, Director of Industrial Promotion Center and Trade Promotion Phu Yen, the program bring Vietnamese goods to rural areas in recent years always been the business response. On such occasions, the businesses have promotions and people have confidence in the quality of goods should be in very good buy. Especially in difficult economic times, the organization of the sessions bring Vietnamese goods to rural areas, mountainous enabling manufacturers to promote products, expand markets, and the consumer stimulus rural and mountainous areas. May find programs bring Vietnamese goods to rural areas, mountainous areas in recent years has promoted a positive effect, creating new markets for businesses and strengthen the confidence of Vietnamese consumers for goods.