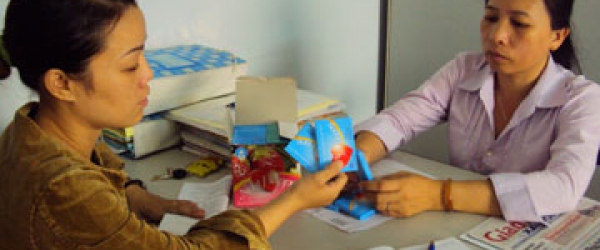 Ms. Hoa enthusiasm for population work
Update: 17h55 - 07/09/2012
Le Thi Thu Hoa (born in 1985) always make close contact with people who are by the grace of the word eat voice from the edge of an affinity with professional collaborators the population (CTVDS) in 2008, she always completedtasks assigned by the vice.
Mrs. Hoa is one of the rare CTVDS enthusiastic young working population. Sister in charge of the area 104 to 218 households, of Nguyen Cong Tru street, Ward 6, Tuy Hoa. She is aware of the number and reproductive health (RH) of women aged 15-49 in the area. 104 area mostly seafaring workers living with low incomes should be thought a son and 3rd child status has become a difficult problem that CTVDS need to be addressed.
Ms. Hoa share: "Also as many other CTVDS, I regularly exercise and remind you every campaign season RH / FP. Benefits of who CTVDS be able to work "overtime" to see where it prompts you. I usually go every alley, knocking door to talk about the benefits of fewer children to raise for good. Simple but effective way, she has convinced many women to participate in family planning.
By his sister, the area 104 emerging issues having 3 children. The benefit of not having three children, people already know and follow. But the situation having three children still occur in this area is because of you forget or do not use contraceptive measures. Knowing these characteristics, she frequented visits, reminders and issued means of contraception timely. Thanks to her enthusiasm in recent years, the rate of having three children in the area have dropped dramatically.
Dang Thi Mong Hoang, officer in charge of wards 6 said: "She Hoa is one of CTVDS enthusiasm at work. She is also one of the members actively participate in assigned activities. Every year she is superior reward in recognition of her contribution in the work of the ward population ".