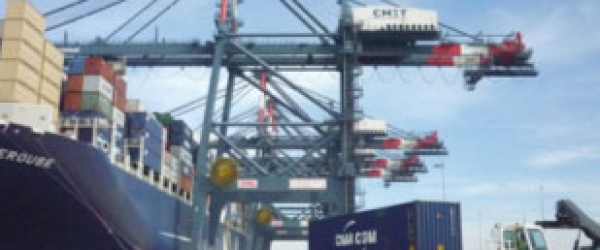 Formation and development Port
Update: 19h37 - 17/08/2012
To develop international gateway port of Vung Tau international container transit port is still much work to do. First of all, the province should start doing full sync and basic conditions to catch up with development trends.
To establish and develop international container transit port requires coordinated investment in many sectors, not just investment in infrastructure and technical equipment for production, management and administration port. Finding and mobilizing financial resources and technology meet the requirements of the investment scale, modern, qualified high-tech engineering has been difficult, but difficult and more important is the protection make the port will function effectively put into operation as soon as exploitation.
According to Pham Anh Tuan, Deputy General Director of JSC Consulting design ports - Marine Engineering (Portcoast), from the lessons of the successful expansion model of international transit port in the past , can draw the necessary condition is to have strategic geographical location, favorable natural conditions, a favorable opportunity. Besides, have sufficient convergence conditions such as mechanisms and policies suitable to attract major shipping lines; Having operator capable ports; There are clear legal framework, transparent, consistent with international practices; infrastructure systems, communication development; Having the rear of economic support; there initial investment to stimulate the premise and development aimed at integration, acceptance get competitive; There the support of the Government.

The lessons can be found in Ba Ria - Vung Tau province must embark on a range of issues, first of all, research and development infrastructure of public ports serve as maritime channel; management system maritime activities, electronic communication system connected to the port, including road, rail, inland waterways and air. Synchronous development of research infrastructure such as power engineering, water supply, communications.

Once solved the problem of infrastructure, necessary to study a specific mechanism to attract international transit of goods through the port. To encourage and attract international transit of goods should have a system of preferential policies to ensure the port attractive to shippers and ship owners, which can compete with the transshipment port sectors in the region. The mechanism proposed policy to facilitate the Vung Tau area - Cai Mep - Thi Vai of duty as the basic international transit, such as preferential treatment on taxes, permit foreign ships to / to make goods at the port is not the entry and exit procedures for sources. In addition, the port charges applicable fees in accordance with actual conditions and characteristics of an international transit port initially engaged in a fiercely competitive market with major international transit port in the port areas such as Singapore, Hong Kong port, the port of Tanjung Pelepas ... to attract shippers and ship owners

Parallel port development to develop logistics services, therefore, necessary to study the development of logistics services to support port operations. In focusing on the development of logistics centers as port logistics, including the creation of an open economic zones or free trade area behind the system Cai Mep - Thi Vai. Training high quality human resources to meet the management requirements of the service and exploitation of the commercial exploitation of international transshipment and logistics support services. This problem is the province of Ba Ria - Vung Tau conducted to actively seize opportunities. When the port goes into operation need to accelerate the development and application of electronic customs; established research data center operations management and operation of seaports and logistics services for the entire area.

"The shipping companies, port operators were present at the Cai Mep - Thi Vai area for investment, port operators and the introduction of the mother ship with a carrying capacity up to 11,000 TEUs in Cai Mep can considered the basic premise and most convincing in the development of international gateway ports of Vung Tau port nature of the international container transshipment "- Mr. Pham Anh Tuan said.