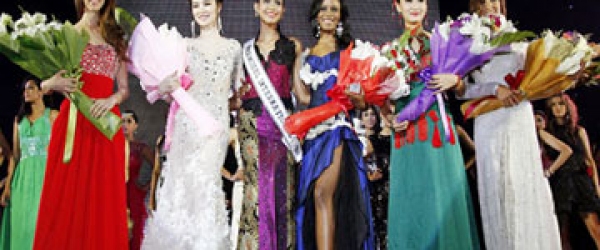 Ngoc Oanh won third prize at the International Supermodel 2012 competition
Update: 18h18 - 07/09/2012
Finale International Super Model Contest 2012 - Super Model 2012 held in Bangkok, Thailand last night, 5/9.
Vietnam's representative at this contest is silver Supermodel Vietnam 2011 Ngoc Oanh has excellent winning three 2012 international supermodel. The highest award of the International Supermodel 2012 competition belongs to the representative of South Africa, Second Prize of the representatives of Portugal. Model New Zealand winners from last and stood in the top 5 contestants of China.
In addition to the three final Ngoc Oanh also won two prizes as Best in Swimwear (best bikini Performance) and Miss Popular (Candidates are the and voted most).
In 2011, Vietnam's representative to attend this competition is Ninh Hoang Ngan - ultimately her won the Supermodel talent.